Assisted Living Service Options

Amount of Assisted Living Service
Contrary to what most of us believe, Assisted Living Service options vary, facilities offer minimal assistance with personal care and medications. If this type of assistance is needed, it is
not included in the basic monthly fee
. Usually, assistance with personal care is based on a level or tiered system. Each level or item is an additional cost, for example; medication management or personal care assistance (assistance with dressing, bathing). The cost of these services depends on the amount and number of times each service is needed. In addition, these services need to be planned for and scheduled in advance.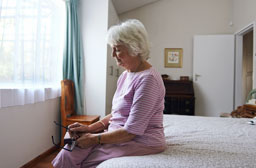 Generally, most Assisted Living Facilities have 2-3 caregivers, per 50-150 residents. That staff is responsible for personal care needs- bathing dressing, grooming etc. Due to the low caregiver to resident ratio, the care and or service that can be provided is minimal. Not having enough staff, the caregivers are often pressed for time. In some cases, there are only 1-2 medication technicians assigned to manage and administer medications for 50- 150 residents. In most Assisted Living facilities the duties and responsibilities of caregivers, med techs, meal servers, kitchen staff and receptionist do not cross over, which limits what a staff member can do. Often there is only one caregiver and one med tech on duty overnight for 50 -150 residents. We know of many seniors who wake up in the middle of the night who are in need of physical assistance or emotional reassurance. For these residents, they may have to wait a long time to get assistance, if they are able to get it at all.
Staffing for special needs
Despite what many believe, the business model of Assisted Living facilities is geared toward more independent seniors who need little or no care or service. Most facilities do have a very large staff; kitchen staff, activity people, receptionists, housekeeping, and maintenance staff. These staff people do not assist with personal care services. Unfortunately, the amount of staff hired to provide the personal care assistance is very limited.