Home Health Care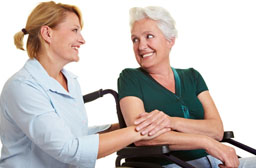 Home Health Care
Home Health Care services are provided in the home setting, by skilled, licensed, professionals while recovering from a self-limiting, short term, event like a surgery, accident or a newly diagnosed health problem or condition like diabetes or stroke. A registered nurse may come to your home to teach you about risk factors, disease process, medications, diet or how to inject insulin and monitor blood sugar. A physical, occupational or speech therapist may teach and provide therapies to help regain mobility and function. Social workers also make home visits to assist with financial assistance planning or other community based resources.
These service must be ordered by a physician, who is supposed to oversee and monitor the outcomes of the services provided by the licensed RN, PT, OT or ST. There are a limited amount of doctors who do home visits, but in general most primary care physicians don't visit their patients at home. The Doctor prescribing the Home Health Service relies solely on information given to them by the RN, PT OT through phone conversations, meetings or chart notes.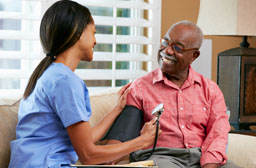 Home Health Care services provided by professional RN'S, PT, OTs etc. are helpful to people that have short term conditions or problems where a recovery to their baseline can be expected.
Home Health services can be provided in any care setting; at Home, Residential Care Homes, and Assisted Living or Retirement Communities. It is important to understand that theses skilled supplemental services are short term.
Families are expected to provide most of the direct care and personal care assistance themselves or hire the personal care assistants/caregivers to provide custodial care. We discuss that below.