Respite in a Care Facility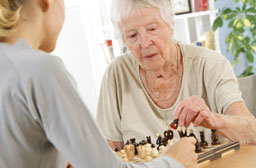 Respite in a Care Facility
Many Residential Care Homes provide respite care on a short term or permanent basis. Residential Care Homes are a good way to provide respite because the care home provides all of the personal care, meal preparation, medication management and socialization which alleviates the family caregiver from having to maintain a presence and contribute all the care for their loved one and allows them to visit and focus on being supportive family members instead of caregivers. Most Residential Care Homes function the way a family household does and provide a more personal family experience. The caregivers are usually consistent and are at the care home on a regular basis, often times the caregivers live at the home. This consistency improves continuity and builds lasting relationships.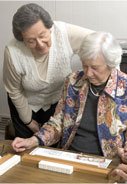 Residential Care Homes are cost effective and range in price from $50- $150 per day or $1,500- $4,500 for shared or private rooms. The rate is inclusive and usually covers meals, laundry, housekeeping, activities, personal care and medication management. Because most Residential Care Homes are owner operated there is usually a lot of room for individualizing service and care as well as cost savings. Rates tend not to rise as much.
Residential Care Homes
can serve as cost effective alternative for respite care. Another option for Respite care is an Adult Day Care facility. Adult Day Care facilities offer babysitting type services during day time hours. In many cases this service is used by adult children who are still working and need someone to watch their parent or loved one during the day while they are at work. Adult Day Care provides minimal personal care or medication management.
Click here to learn more about adult day care