Types of Service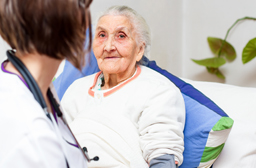 Types of Hospice Service
Hospice has brought comfort and peace of mind to many people across the world. While the idea and premise of Hospice is a good one, it is important to have a true understanding of the types and amount of services that are available through Hospice Programs and how it is paid for.
Usually, Hospice care is provided in the home setting, but it can also be provided in Residential Care Homes, Assisted Living Facilities and Retirement Communities where you may have already established a care team to provide the day to day assistance with personal care and activities of daily living (ADL's) that Hospice does not provide. Many Hospice Programs have an in-patient unit where patients can go for short periods of time, generally less than a week, for heavy care needs that the hospice team cannot provide in the home environment.
Hospice offers the services of a registered nurse (RN), Certified Nurse Aides (CNA's), Social Workers (SW), Spiritual Advisers, Medical Doctor (MD) and sometimes community volunteers. The services are largely coordinated by the nurse who makes weekly visits, but can visit more frequently if needed. CNA's provide assistance with personal care, like bathing and dressing, but only for an hour or 2 per day or a few times a week. Hospices, in general, are not able to provide all of direct custodial care that a dying person needs. The family is responsible for providing the direct assistance with personal care or will need to hire additional care givers at an added expense. Often families are not able to provide the extra care services that are needed or afford to pay privately for additional in home services through an agency. In these cases they may benefit from the family atmosphere and supportive care teams often found in Residential Care Homes. Social workers and spiritual advisers are available for guidance with emotional needs and assessing if other issues need to be addressed.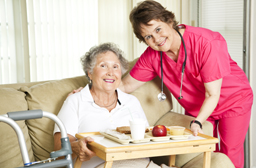 All the services of a hospice program need to be approved by the Hospice Doctor, but in general the Hospice Doctor making the decisions and directing the care of the patient will infrequently meet or evaluate the patient in person. The doctor's role is more of a distant coordinator of care. It is the nurse who provides the clinical assessments and communicates the information to the hospice doctor. In addition, it is likely that once you are on a Hospice program you will likely have to sever your relationship with your own doctor, who knows not only your health history but your personal history, as well. We believe finding the right care team who are willing and able to provide continuity of care is vital to the emotional, spiritual and physical aspects of the care and therapy that Dr. Saunders dedicated her life to developing and sharing with the world.